Modbus, Ethernet, Internet and from March on also Profinet in the devices of LUMEL S.A.
After success of newly launched ND30 power network meter with Modbus and Ethernet communications with inbuilt storage functionality, our next product ND30PNET is equipped with Profinet communication.
This way the new standard extends the range of application of our meters in communication and controlling systems which use popular drivers of PLC and Profinet protocol. The integrated interface allows an easy and very cost efficient system integration – no separate converters needed.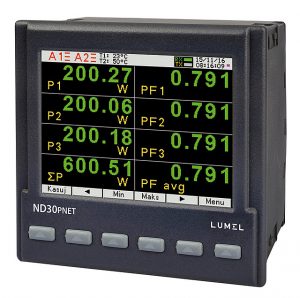 Few of the functions which make ND30PNET most intelligent product are as below;
Measurement of 54 electrical parameters including individual harmonics for current and voltage up to 51st
Color graphical display: LCD TFT  3,5'', 320 x 240 pixels, fully configurable by user (10 pages, 8 parameters in each)
Digital output RS-485 – MODBUS protocol.
Modern and user-friendly Ethernet / interface Profinet 2.2
Display of 8 parameters of user choice
2 x PT100 input (ex. monitoring of Oil & winding temperature of the transformer)
2x configurable alarms allowing user to create conditional alarming
Analog output for re-transmission of any required parameter
Battery backup RTC.
Overall dimensions: 96 x 96 x 77 mm
__________
As you are well aware that last year we had expanded the range of our products by launching the ND30 meter which bears uncanny resemblance to ND3OPNET.

The main differences between ND3OPNET and ND30 are following:
RS-485 Modbus and Ethernet Profinet are standard interfaces used in ND30PNET.
RS-485 Modbus is offered as a standard in ND30, however, Ethernet Modbus TCP is an option available at an extra cost.
Due to the nature of the Profinet protocol the ND30PNET meters do not have the following features: recording, internal memory, web server and ftp server
The other parameters of ND30PNET and ND30 remain the same (size, measuring range, menu, operation, additional inputs and outputs, supply voltage).